Hey Mina Moo's! Have not posted in a while, and that's because running a business with 2 kids in tow is proving more difficult than I imagined. Add school runs, running a household, baby crawling and now running about, things tend to get a bit manic most days.  Adam started walking at 10 months and needless to say I operate on his time not mine ha ha I am super proud of my baby's moments, even my 3rd baby Mina Moo! lol  When you get messages from customers who spot our products in magazines or social media, woah! more proud...
---
• Blog • feeding cover • fitted cover • infant car seat cover • Mina Moo Blog • minamoo • new baby • nursing cover • Press • trolley cover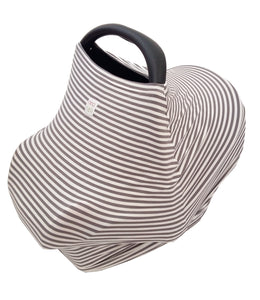 Ssssso excited to finally introduce our new product! Its our multi functional cover which can be used as a fitted infant car seat cover, a feeding cover as well as a trolley cover. I've been working on this project for about 7 months now and cannot believe its finally time for the big reveal! I have a ton of product ideas but launching something is a lot harder that one would think. Research, sourcing materials, designing, packaging and testing - all these things take time and time is what you dont have when you heavily pregnant with baby no.2, running...
---
• baby accessories • baby bag • baby boy • Blog • Instagram • Mina Moo • Mina Moo Blog • MinaMoo • new baby • Press • trendy baby bag
As a new mom of 2, I can honestly say I need about 8 arms to get through the day, more so when we out and about. Outings are strategically planned when you have a 4 year old and new baby in tow. So this time around I opted for a backpack baby bag to free up my hands just to make things a little easier when on the move. Those that know me know I am a streamline packer, I accredit that to years of travelling so my baby bag is no different. I wanted something small but practical...
---
Poor little Adam is suffering from reflux, just as his big sister did when she was born :( and the whole reason why Mina Moo and Baby was started 4 years ago. Luckily he has a mom who has access to endless amounts of dribble bibs! lol  Our dribble bibs are made from 100% cottons front and back, no harshies or nasties so its delicate on babies skin perfect for those babies who are dribbling or suffering from reflux. At least Adam gets to spit up in style. #funnynotfunny #thestruggleisreal
---
So this little guy joined the Mina Moo family, a healthy baby boy, Adam :) This post is about 2 months delayed but hey, having a busy 4 year old, new baby and running a business - these days a warm cup of tea is a luxury! Moms really do deserve gold medals or in my case, a warm cup of tea lol! Thank you all for your patience during this time x